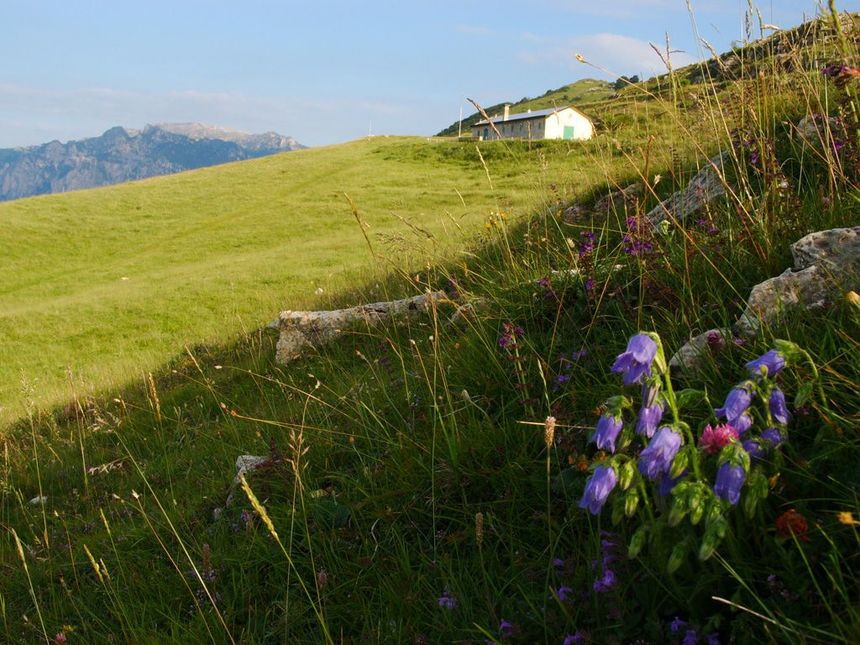 Description
A combination of nature and history set amongst the first spurs of the Vicenza Pre-Alps. It is Mount Novegno that rises like a natural placid altar next to the harsher massif of Pasubio, just near Schio. In winter, on the summit the snow covers the wide basin which, since ancient times, has been the destination of farmers who take their cattle there to graze in summer. From its highest peak, Mount Rione, the First World War Fort of the same name stands out. The Vicenza backdrop of mountains and foothills is imbued with the memory of Great War. The Novegno bears witness to the theatre of events that have become a part of Italy's history. Numerous traces of the past still mark the face of the mountain today including roads, tunnels, trenches, caves and fortified positions. The symbol of all these vestiges is the Rione Fort, a small defence building that played a key role in the battles of June 1916, during the decisive hours of Strafexpedition. The Austrians were making one last dire attempt to cross the Novegno, thai they called the Letzer Berg, it was the only obstacle preventing them from descending upon Schio and invading the Vicenza plain.
The battle reached its climax on 12th and 13th June, when 72 Austrian battalions backed by 264 pieces of artillery attacked the Italian line which was defended by 14 battalions of infantry belonging to the already exhausted 35th Division. The trenches of Novegno, Mount Giove and the Campedello pass came under extremely heavy artillery fire for hours, a prelude to the repeated assaults led by the 3rd and 4th Kaiserjager Regiment that lasted for two consecutive days, but the line did not succumb. The bloody battles that were fought left a lasting mark on the environment. Today the Novegno is a perfect symbiosis of nature and remembrance, an open-air workshop and a destination for history lovers, naturalists, mountain ramblers and mountain enthusiasts. The ruins of small mountain shelters and the remains of Alpine paths are the legacies of an old mountain economy that is still visible to visitors attracted by the typical pre-Alpine flora that grows spontaneously in the meadows and in the thick woods. The Novegno is also inhabited by a discrete quantity of fauna: in fact marmots, roe deer and chamois are quite commonly seen.
Enjoy it, il will be an amazing experience!
Nearby