Promotion
Inside the box: il Faber Box si racconta
Meeting Box - Via Tito Livio 25, Schio
Date Start: 25 Sep 10:00
End at: 25 Sep 12:30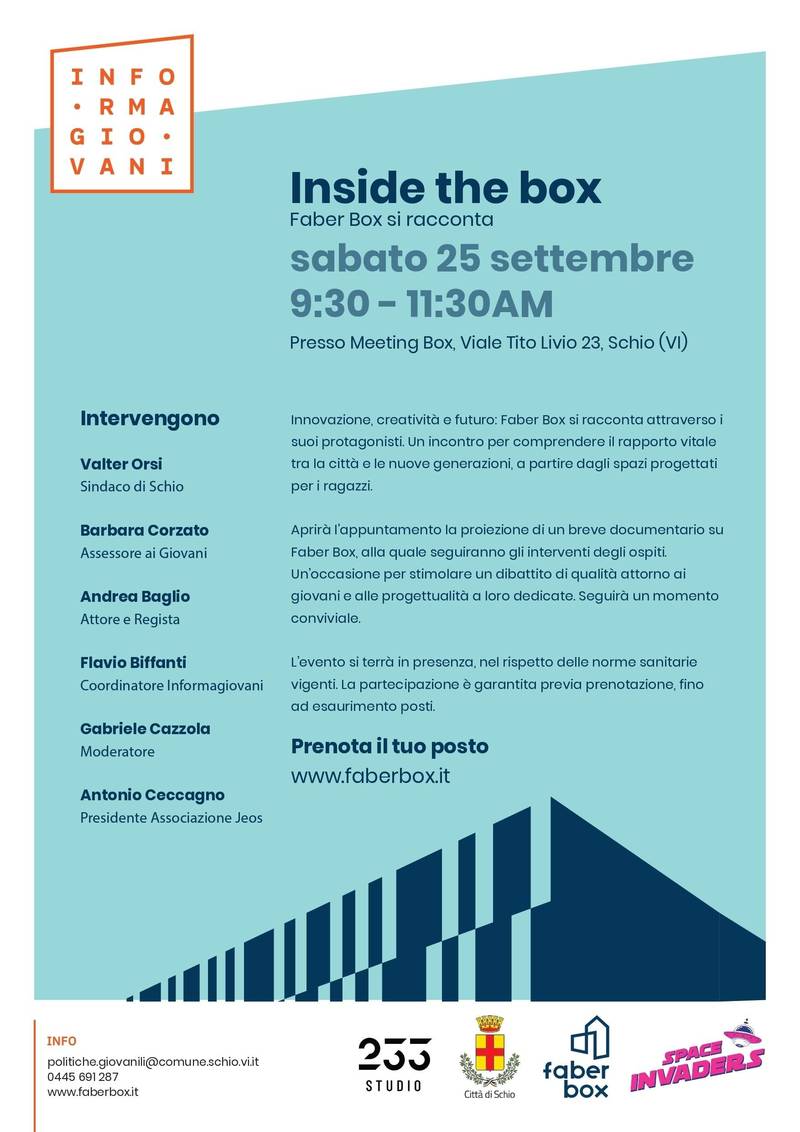 Vi invitiamo a partecipare al convegno in programma sabato 25 settembre 2021, "Inside the Box: il Faber Box si racconta", la storia del progetto e dello sviluppo dell'edificio, narrata attraverso una serie di video-interviste rivolte ad autorità e tecnici coinvolti nel processo, realizzate da un giovane sociologo e videomaker, Gabriele Cazzola, ideatore e promotore dell'iniziativa.

Alla conclusione del convegno, che avrà luogo dalle 10:00 alle 11:30 presso il Meeting Box, con accesso da via Tito Livio 25, seguirà la presentazione dell'opera di street art realizzata dall'artista ACME 107, a cura dell'Associazione Jeos,
Sta infatti per essere completato un importante tassello nel progetto dell'edificio, che mira non solo ad un obiettivo estetico, ma anche a comunicare all'esterno quello che accade all'interno degli spazi.
Di seguito il link con il programma e gli ospiti dell'evento, le modalità di accesso e il modulo di iscrizioni al convegno.
https://www.faberbox.it/2021/09/09/inside-the-box-faber-box-si-racconta/
Si segnala inoltre nel pomeriggio: UNDERPASS
Il muro del Piazzale Pubblici Spettacoli (area Luna park), è l'autentica Hall of fame della nostra città, ovvero lo storico luogo simbolo del graffitismo scledense e non solo. In questa edizione di Underpass abbiamo coinvolto gli storici writers della scena locale, chiamati a realizzare una nuova opera collettiva proprio su questa storica parete.
A completare il programma di giornata un laboratorio di spray art, un torneo di street basket.
L'evento è organizzato dal gruppo Underwool, promosso e sostenuto da Informagiovani e Comune di Schio, in collaborazione con Comunity-lab, Associazione Domna e Famila Schio.

Dettagli evento:
https://www.faberbox.it/2021/09/14/underpass-graffiti-jam-torneo-basket-3v3/
immagine da: Altovicentinonline